#1 package for small to medium businesses
Well-known by consultants, bookkeepers, and accountants, and used by 84% of businesses worldwide, QuickBooks provides a time-tested and user-trusted platform to help businesses manage their finances and prepare for tax time with ease. With a wide library of native integrations and the flexibility to develop custom solutions, QuickBooks is not only the most user-friendly accounting platform but the most business-friendly one as well.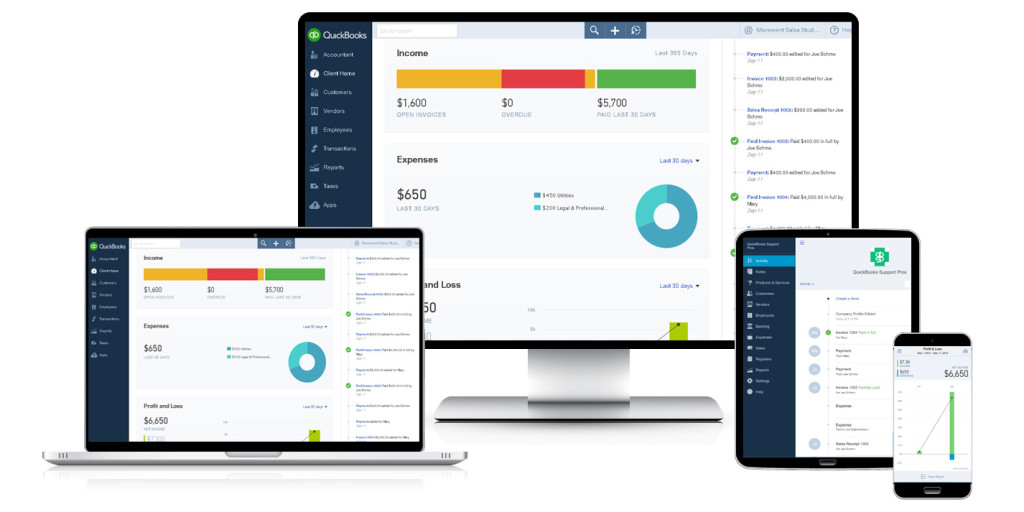 QuickBooks online is a perfect solution for service businesses who want to be able to access their accounting from any location and any device. With QBO your data is stored on Intuit's secure accounting cloud and protected by industry-standard AES 256 encryption. From mobile invoicing, time tracking, and even automatic mileage The QuickBooks online suite of products brings clarity and ease to your business financial life. 
The perfect solution for products-based businesses or businesses with less than perfect internet connectivity. QuickBooks Desktop provides a localized instance of the QuickBooks platform that allows the tracking of large complex inventories that make this the perfect tool for manufacturing, logistics, and retail businesses.
Tailor-made for retail establishments that use the QuickBooks platform for their accounting needs, this POS solution provides industry-leading performance in the retail environment. Built for speed, the QuickBooks POS system features an easy-to-use interface, the ability to network multiple lanes and locations, and the flexibility to conduct mobile and off-site sales. 

Integrating with your desktop or online instance of QuickBooks through an easy-to-use mobile app QuickBooks Point of sale provides an easy-to-use, easy-to-learn complete POS solution for your business.